text.skipToContent
text.skipToNavigation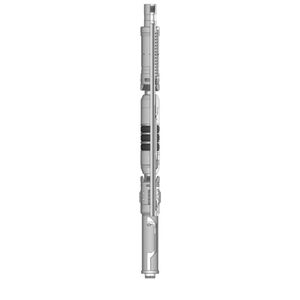 Mechanical Set Double Grip Retrievable Packer
From $2,797.20
The SAZ-IX Mechanical Production Packer is a retrievable, double-grip compression- or tension-set production packer that can be left in tension, compression, or in a neutral position, and will hold pressure from above or below. A large internal bypass reduces the swabbing effect during run-in and retrieval, and closes when the packer is set. When the packer is released, the bypass opens first, allowing the pressure to equalize before the upper slips are released.
The SAZ-IX also features a patented upper-slip releasing system that reduces the force required to release the packer. A non-directional slip is released first, making it easier to release the other slips.

The SAZ-IX can easily convert to SAZ VI-X with the advantage of being able to set on Electric line or hydraulically- just remove the shear screws and install drag blocks and drag block springs. An On-Off Tool Stinger with a Wireline Plug installed can be attached to the top of this packer. This packer can then be lubricated in the hole and set under pressure. Once set, casing pressure can be bled off, and the tubing with an On-Off Tool Overshot can be run and latched onto the packer. The Wireline Plug can then be removed.
Features & Benefits
Holds high pressure differentials from above or below.
The J-slot design allows easy setting and releasing; 1/4 turn right-hand set, 1/4 turn right-hand release.
Can be set using tension or compression Only.
One-quarter right rotation is required to set and release.
Field-proven releasing system.
Optional safety-release features available upon request.
Bypass valve is below upper slips so the debris is washed from slips when the valve is opened Benefits.
Field-proven design meets most production, stimulation, and injection needs.
Can be run with a Model T-2 On-Off Tool.
Can be left in tension, compression, or neutral position.
Bypass valve opens before upper slips are released.
Available in All API material grades.
Available in material conforming to NACE MR 0175 or H2S, CO2 well environment services requirements.
Available in All API & premium thread connections and Elastomers type.
Validated to withstand 7,500 psi differential pressure and 300° F Temperature.
For high pressure, Packer is withsand 10,000 psi differential pressure and 300 F.


Volume Discounts applied at checkout
Qty 11 - 25 = 5% discount
Qty 26 - 50 = 10% discount
Qty 51+ = 12.5% discount
| | |
| --- | --- |
| SKU: | Mechanical-Set-Double-Grip-Retrievable-Packer |
This product has not been reviewed or rated yet