text.skipToContent
text.skipToNavigation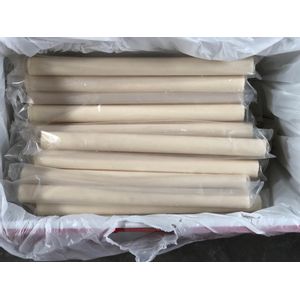 SOAP Sticks
From $506.00

SOAP Sticks are a multi-functional product designed to reduce the hydrostatic pressure in shallow wells. SOAP sticks are water-soluble, dissolve quickly, and prevents the formation of "mud rings" while reducing bit balling tendencies. With the unique ability to be placed inside the drill pipe, this product is convenient, economical and a must have for all drilling operations.
Features
Packaged individually and conveniently in cooler with 100 sticks per cooler
Prevents "mud rings", reduces hydrostatic pressure, and reduces bit-balling
Reduces torque while increasing rate of penetration
Economical, easy-to-use product with small footprint of product
Widely used and effective while drilling shallow, top hole sections
Physical Properties
Physical Apperarance - White - yellow solid sticks
Solubility in water - Soluble
Size - 1 3/8" X 15"
Storage and Handling
Store in a dry area away from sources of heat
Handle as an industrial chemical, wearing protective equipment, and reference SDS for further information
Sold and packaged by Federal +
Packaging of material may vary
Shipping is available, please contact us directly for shipping cost
This product has not been reviewed or rated yet